An Easy Way To Spruce Something Up!!
I thought I'd do this post as a lot of people think they can't do embroidery as they are not artistic, or can't draw or they think they don't have enough imagination to come with anything. So hopefully this will show you an easy way of making something individual and look really special without all the mess of drawing out patterns etc.
So this way you just take an already patterned fabric and embroider over the top. SO enhancing the pattern, but also making something really unique!
So first you will need some patterned fabric, and embroidery hoop and a needle with some coloured embroidery thread.
So I've chose some vintage floral fabric, as that is what i had lying around. So put the fabric into the hoop, making sure it is placed firmly and tightly so that it is easier to sew. And basically just sew over the pattern. I've chosen green to sew over the stems and I have used chain stitch as I love the effect it gives.
Ok so when your fabric is inside the hoop then its ready to go!! I'll show you chain stitch, its really easy and look great as the stems of my flowers.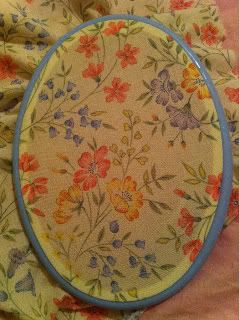 Step 1. Tie a knot in the end of your threaded needle and pull through to the front of the fabric, so that it is on the stem of the flower. Then push the needle back through the fabric so that one stitch is visible.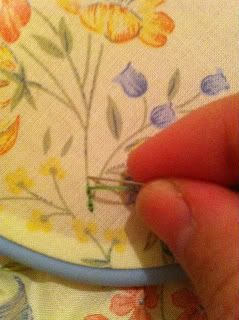 Step 2. Bring the needle back through the fabric but so that it goes through the middle of the stitch you have just made. Pull the thread through and make another stitch which goes past the end of the previous one.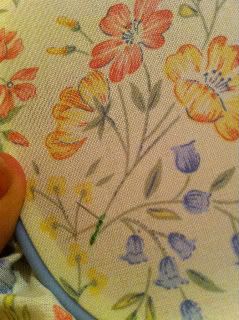 Step 3. Repeat until you have reached the end of the stem. Attach thread firmly to the back of the fabric and cut the rest off.
So then for the rest of the pattern i have used long and short stitches of different colours for the petals(i think quite explanatory?), sequins that i have cut to the right shapes, and beads.
French knots, more chain stitch, lazy daisy stitch and running stitch.(shall be posting further blogs on all these stitches!!)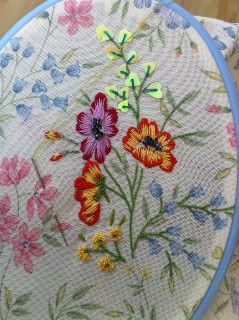 And then voila!! this could be put into a frame, made into cushion (as i have done  with some of mine!), put as a patch in a patch work quilt or whatever you choose to do with it!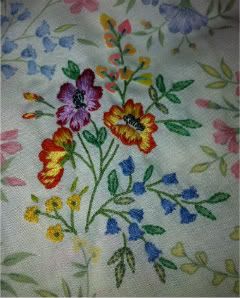 So there you go, a really simple way of making something look extra special.
Much love 
x x x